Yesterday, I received this beautiful sunflower from my students and one of them brought in this poem by Mary Oliver which I asked her to read aloud for us.
Come with me
into the field of sunflowers.
Their faces are burnished disks,
their dry spines
creak like ship masts,
their green leaves,
so heavy and many,
fill all day with the sticky
sugars of the sun.
Come with me
to visit the sunflowers,
they are shy
but want to be friends;
they have wonderful stories
of when they were young –
the important weather,
the wandering crows.
Don't be afraid
to ask them questions!
Their bright faces,
which follow the sun,
will listen, and all
those rows of seeds –
each one a new life!
hope for a deeper acquaintance;
each of them, though it stands
in a crowd of many,
like a separate universe,
is lonely, the long work
of turning their lives
into a celebration
is not easy. Come
and let us talk with those modest faces,
the simple garments of leaves,
the coarse roots in the earth
so uprightly burning.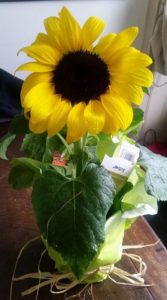 It was so appropriate for our group. I finished facilitating an experimental course with them where they played with drama, movement and creative writing and last week, I finished a drama course in Navan for the same organisation. Recovery College is a new venture and for me, working with them – has been an enriching, enlightening and very rewarding experience. I was given free reign to do what I do – design and facilitate course modules that are useful and empowering for adults working on their own recovery from mental health distress. It is encouraging to see people smile and have fun and feel safe while exploring their creativity despite what life has thrown at them. The power and support in these groups is inspiring. I wish them all the very best. Many thanks to the tireless efforts of Recovery College who are working so hard to provide much needed peer-led courses in this area. If you have an interest in mental health, work in mental health or have had mental health distress in your life, contact them and see if what they are offering this Autumn is up your alley. Most of the courses are on during the day.