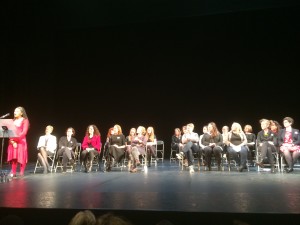 Here is Amy Redmond's report from Waking The Feminist's event at The Abbey Theatre, Thursday, November 12th, 2015. Full text below.
Amy Redmond was at the Abbey Theatre for the Waking the Feminists protest.
Throngs of people line the doors of the Abbey Theatre and spew out onto the opposite street. Well over a thousand. These are people who were not lucky enough to get one of the free tickets that sold out within 10 minutes. "The Abbey hasn't had a full house like this in a while!" "Certainly never a waiting list this long!" – are just some of the comments overheard. The air of excitement and jubilance is palpable. The crowd, mainly women of all ages have rallied for this event – the culmination of an online debate coined "Waking The Feminists" and instigated by set designer and arts manager, Lian Bell who responded in anger to the unveiling of the Abbey's 1916 Waking The Nation program and Abbey Director, Fiach Mac Conghail's glib remarks on twitter.
On October 28, Mac Conghail announced his programme for 2016 and of the ten works to be produced only one has been written by a woman and three are to be directed by women. Twitter comment after Twitter comment appeared and due to Lian Bell's tireless retweeting and re-posting, the movement #WakingThe Feminists was born. Veteran actor Eleanor Methven has called it the Easterogen Rising! And so, on our way into the 620-seat venue, I spy Gary Hynes giving a radio interview and I can see, hear and feel the hope that's in the air. Taking our seats in the jam-packed auditorium, I hear a young voice exclaim, "It's so exciting, I had no idea so many women felt the same. It's so cool to be coming to visit the Abbey for an occasion such as this", and then behind me, an older woman says, "About f****ing time!"
Three rows of empty chairs line the stage and Senator Ivana Bacik arrives to chair proceedings. She is met with uproarious clapping and cheering that goes on for at least two minutes. She is pleased and even more so, she says herself, at being able to say, "Waking The Feminists" live on the stage of the Abbey Theatre! She gets serious then and mentions the need to address women's invisibility in public life, not just in theatre. She explains that a range of female theatre artists will each have ninety seconds and there will be time for comments from the audience at the end. Producer Sarah Durcan introduces the first speaker and the woman who began the campaign, Lian Bell, who is given a standing ovation. Bell stresses that the Abbey is "our theatre" and for too long Irish society has only been getting "half the story". She says, "apparently I am this angry!" and says she thought to herself after writing her initial angry response, "Fuck, it, press send". At this, the crowd erupts once more. Writer and performer Amy Conroy says the "problems are deep in the marrow. There are no buts – you believe in equality or not". Company SJ, Artistic Director and academic Sarah Jane Scaife mentions Mc Conghail's badly-planned program and remarks that the Abbey Theatre has to be the "national expression of its people, inside or outside the building".
Director Catriona McLaughlin speaks of how meaningful it was for her to hear the voices of Brian Friel and Frank Mc Guinness growing up but that she is no longer content to let those voices speak for her. "Being fair takes work", she says and implores that it is "time to listen". Actor Derbhle Crotty echoes McLaughlin quoting latin, "much tempus est" – "The time is now". Playwright Ursula Rani Sarma's comments are delivered by Claire Barret who asks, "Is there some sort of giant firewall surrounding women playwrights?" and also repeats warnings Sarma had been given as a reason to be quiet, "Be careful. People might think you're bitter". Actor, writer and director Gina Moxley says, "women with opinions are regarded as trouble, awkward c**ts, or crazy bitches who get sidelined" and she finishes by saying, "we've picked the lock of the closed door. We're coming in". So many women artists speak or their words are communicated in their absence, Jenn Coppinger, Mary Duffin, Marie Mullen, Olwen Fouere, Gary Hynes, and many more.
Actor and facilitator Ali White announces that she is the one female whose work is being produced but then refers to fact that her work has been cited as "only" a monologue so, "My play is not a play! Figure that one out?" White is referring to what has been bandied about around her work. Only one play is written by a woman but that's an outreach monologue for children. White wrote Me Mollser, inspired by the consumptive 15-year old character, Mollser, from Sean O Casey's The Plough and The Stars. White says Mollser has only fifteen lines in the play but White discovered that she has loads to say. Me Mollser will begin its first phase of touring schools nationally from January to March 2016 as part of Waking The Nation. Later, Mc Conghail apologizes to White and salutes her for her incredible work.
Lighting Designer Zia Holly says she's proud to be one of the girls and remarks, "boys were never told that they can do anything that girls do". Actor Noëlle Browne says that is it is men who mostly have the power to give you work and that it is still a struggle to be heard and that sexism not confined to theatre. Today, acceptable prejudice is the norm. She finishes by saying she doesn't want special treatment. "I want equality". Costume designer Joan Cleary highlights the need for an examination of status quo to rates of pay. Director Laura Bowler quotes from the poem she previously uploaded to Youtube once the debate flared, "for the sake of making sense of the time it's taking, dead men are still taking precedent over living women… We do jobs we never want to support lives we hate…When you wake we'll be gone".
Eleanor Methven declares she has been awake since 1976 and that she set up Charabanc Theatre because "there were not enough good roles for women. We were tired of playing somebody's sister, somebody's mother, or daughter. Actor Janet Moran reiterates this sentiment asking, "when do we get to be the somebody?" Artistic director and producer Roise Goan asks what happens next? "It is imperative that the Abbey share the work of women writers and commits to producing women's work over next 5 years," she demands.
When comments from the floor are opened, Annie Ryan, Artistic Director of Corn Exchange, says, "the nature of theatre is to address the most important thing. We want plays to be robust, on solid ground. I'm looking forward to where the conversation is no longer on the surface if things, in much deeper waters". Playwright Deirdre Kinahan, who is also a board member of the Abbey Theatre says, she always felt she laboured under a gender bias. "Women are no longer in the corner. The world has turned. The ground has shifted. We all want better. Women are not lesser citizens," she says and asks "What actions do we take to implement change?" Director Grace Dyas admits, "Maybe I'm not able to stick up for myself" and acknowledges all the women on the stage in thanks for lending their voices. She closes with the promise, "I'm making a pledge today to hold people to account for bias, misogyny, inequality".
Activist Kathleen O'Neill tells the crowd that two hundred and sixty seven women were involved in the Easter Rising but, at best, only seven can be named. Mary Moynihan, director of Smashing Times Theatre, says that for women it is not about "asking for power but to take power". She also discusses the idea of gender quotas and says, though not necessarily a fan, the research is there to prove that if there is at least 30% to 40% of women's voices represented, then change can take place.
Finally, the Abbey Director, one of the most powerful men in Irish theatre, Fiach Mc Conghail, rises to give his five-minute speech nearing the end of the affair. The moment he is announced there is a visible shift in the space, not just heads but the entire auditorium revolves physically in an ensemble of more than 600 bodies to fix eyes on him! He is contrite and says he is "extremely humbled" and admits that he has failed to check his privilege. When planning his program for 2016 he says, "I wasn't thinking about gender balance. I should have checked myself. We can't have true artistic freedom unless we have gender equality. What investment can we make? How do we motivate? For a time I need to commission more women than men, initially, to address the balance. The Board has made the commitment. It is crucial to listen."
Since 2006, just 12.3 percent of the plays shown at the Abbey have been by women. Lucy Kerbel from Tonic Theatre company talks about her work trying to change the gender ratio in UK theatres and urges women to explore feminism, that the campaign does not end here. Senator Bacik reminds the crowd that 84% of politicians are male and that only 28% of peak-time radio panels are made up of women. Producer Sarah Durcan closes proceedings and thanks everyone to a massive standing ovation. The sounds of Aretha Franklin's 'Respec't begin and hundreds of women and some men in the crowd are all dancing, clapping and cheering. This is a small victory for women artist's rights. To have protested, to have been listened to and to have been invited and heard on the stage of the Abbey Theatre on 12th November 2015.
In the words of playwright Nancy Harris who pithily says that the concept of the National Theatre needs to change to include women so that "our work should speak for us so we don't need to stand here speaking for it". It's a start. Only, time will tell.
See Waking The Feminist's blog here to follow developments
You can sign a petition here at change.org if you support equality for women in Irish theatre