Welcome to Act The Maggot. We deliver classes in Dublin city centre that focus on the three C's – Confidence, Creativity and Communication. We specialise in beginner classes in acting, writing, screenwriting, drawing and mindfulness. Get in touch with us now! Send us an email to actthemaggot@gmail.com.
Our next Beginners Acting Class starts on Thursday, May 11th, 2017. It is six-week course designed to get you out of your comfort zone and laughing yourself silly with the rest of us. See here for details. Email us to reserve your place by paying the €50 depsosit. We design evening classes, day programmes and workshops in Improvisation, Beginner's Acting, Improver's Acting, Audition techniques, Voice Projection, Team-building and Mindfulness for adults and young people. Take a look around and be sure to check out our great testimonials and follow us on Twitter and Facebook. If you are interested in hiring Act The Maggot to design and deliver a programme for your organisation or a team-building event at your company or if you want to take one of our fun evening classes, you can contact us right here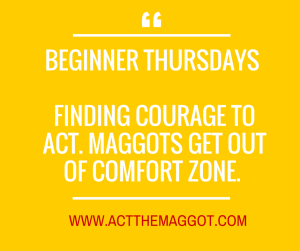 testimonials
To bag your spot email us: actthemaggot@gmail.com
Beginners Acting (Level 1) is a fun, gentle introduction to acting, improvisation and a little voice work. Nothing scary. You will learn basic principles of acting and the emphasis is on fun and getting out of your comfort zone. The group is usually comprised of a good mix of ages ranging from 20s up to 60s and everyone gets on like a house on fire! We usually go for a drink after the 3rd class and the last night of the course. If this seems like it is up your alley you can guarantee your place now. For more information and to find out the price of the Beginners Acting class click here.
Improvers Acting (Level 2) is a step up. As well as diving into our usual fun improvisations, each participant will bring a piece of text they wish to work on and we will spend six fun weeks bringing it to life. If you've done our beginners class or have some experience at acting, this is the class for you if you want to up your game. This class is ideal for actors who want to work on audition pieces. For more information and to find out the price of the Improvers Acting class click here.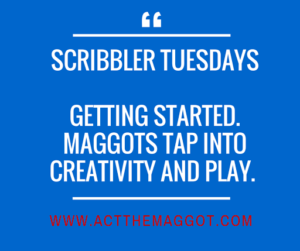 Try your hand at creative writing either. We run an Introduction to Screenwriting class and a Beginners Creative Writing. These classes take place on Tuesday nights in Temple Bar.
MIND YOURSELF is back due to popular demand. Are you curious about Mindfulness and its possible benefits?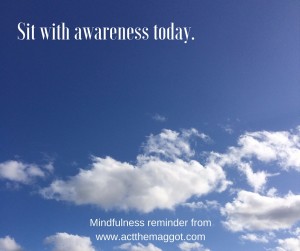 Do you want to explore? Join us for one of our introductory workshops. This workshop is suitable for complete beginners or for those who want to re-ignite their practise. See our testimonials here. Learn about Mindfulness in a relaxing environment and leave refreshed and rejuvenated with some great practical tools. C'mon MIND YOURSELF! For booking and more details click here.
Do you secretly harbour a passion to be the next Dame Edna? Well, maybe not! How about Harvey Keitel or Sigourney Weaver then?
What is Act The Maggot you wonder?
Act The Maggot focuses on the Three C's – Confidence, Creativity and Communication. We deliver beginners acting classes, creative writing classes, screenwriting and drawing classes. We also tailor team-building and effective communication sessions for the corporate and community sector as well as designing programmes with an emphasis on positive mental health. Most maggots come and try our six-week beginner's acting class which has been designed to introduce you to the rudiments of improvisation and acting. We don't take ourselves too seriously and the aim is primarily, to have fun. We especially like to catch maggots who are nervous about jumping in. So, if you're scared – we want you! Read more about our Beginners Acting class here.
What happens in a class? You will learn about improvisation, creative thinking, your voice and your performance. Each class is specially devised to gently take you through the steps that are needed in order to perform in front of an audience. You will meet great people, you will gain confidence and have a good laugh. These fun classes always begin with a simple physical warm up so we ask you to wear comfortable clothes. Yup. No heels or suits wanted! This is your time to unwind and have a bit of craic with a bunch of adult children like yourself who want to act the maggot of a Thursday! Why not contact us to book your place in our class.
What do other maggots have to say? Check out our testimonial page and find out.
Flourish in 2016! Act The Maggot! See our MAGGOT MOVIES on YOUTUBE.
So, the next course starting soon. "Feck!" says you. Well, get looking and get booking! This class is hot! See our page about Beginners Acting Class to find out more. You can also check us our on da holy book and Like our FB page
G'wan bag a spot and get maggoting. You know you will love it.
See MAGGOT MOVIE 1 filmed & edited in Dublin, Ireland
See MAGGOT MOVIE 2 filmed & edited in Dublin, Ireland
See MAGGOT MOVIE 3 filmed & edited in Dublin, Ireland
Get maggoting
G'wan shake things up for yourself in 2016 – meet new faces in diverse places with Act The Maggot.
See Act The Maggot TV interview on Tuesday March 15th, 2012 with DCTV's Theatron Show hosted by Aoifa Kenny and filmed in their Temple Bar studios in Dublin. For those in a hurry, the Act The Maggot segment starts 3:38mins in….
Dublin, Ireland
Contact us right here