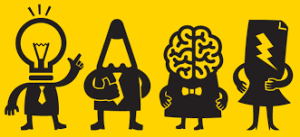 With us, the focus is on the Three C's – Confidence, Creativity and Communication. More and more in the commercial world, the focus is on creativity and innovation. Talk to us today if you want to learn how useful Improvisation skills are in the business sector. Call us on 01 496 7021 or 087 374 4926 today.

Tailored Workshops
Does your organisation need to Act The Maggot?!
Consider hiring Act The Maggot to foster & develop important communication skills in a uniquely entertaining way. In the midst of this chaotic world, we can bring a little bit of silly and sunshine to your group and help people connect with each other and ultimately work better together. If you want to find out more why not read some of our testimonials to help you decide if Act The Maggot is exactly what you are looking for!
Remember we specialise in the Three C's – Confidence, Creativity and Communication.
Act The Maggot provides specifically tailored creative thinking, team-building, effective communication and mindfulness sessions for corporate groups, charities, youth organisations, schools, universities, retirement groups, hospitals, libraries and lots of other organisations in Dublin and throughout Ireland. We use fun acting, writing & relaxation techniques. The aim is to chill out & have the craic but we like to challenge our maggots in a playful way. We have a panel of highly experienced, often funny but always professional facilitators.


We can deliver a full day in Commedia dell'Arte, or Theatre of the Oppressed or tailor make something based around and idea you want to try.
Bespoke sketching sessions are also an option. For something completely different, our Artist in Residence can magic up a simple two-hour session in beginners sketching while providing some good tunes in the background.
Please contact us for further details.
 
Contact us right here